AFP, Divan du Monde, Paris (English version)
(pour la version française de cet article, cliquer ici)
« Good news week » is still going on, so far a flawless record, 2 days left to go! My heart and my ears are on cloud#9 for yesterday night I saw: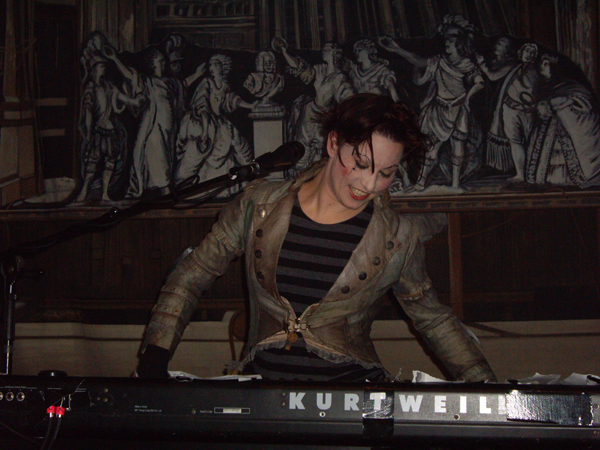 Amanda Palmer. AMANDA FUCKING PALMER. The singer from the Dresden Dolls band, who recently released a solo album (with a book to go along with it written by… Neil Gaiman. Which proves my little world is somehow coherent, in the end) and is thus currently touring Europe to promote it, along with the talented members of the Danger Ensemble.
There was a crowd when I got there, and a huge queue in front of the entrance. Fortunately, no queue for me, for I had some quiches with me!
Out of context, this sentence must seem absolutely surreal. But it is nonetheless logical: Amanda and her team call upon the good will of the fans to house them (at a fan's home) and feed them (with fan-baked specialties). I was among the second category that night, and thus a member of the Danger Ensemble, Aideen, was waiting for my two homemade quiches lorraines (a French pie with cream, eggs and lard) and me at the door, which allowed me to avoid the queue and be standing in front of the stage (and I REALLY mean it when I say "in front of the stage". The above photograph was taken by yours truly without any zooming device. There are more pictures in one of my Facebook albums, should you be curious).
After a rather so-so opening band (the musicians were talented but I am rarely moved by a band without any vocal part), the Danger Ensemble entered on stage, followed by Amanda (twice, actually, for she had forgotten her earplugs backstage, but we all pretended like it never happened).
The exceptional performance lasted for roughly two hours and mixed songs from her solo record with songs from the Dolls repertoire (without Brian on drums, obviously), new songs, and surprising covers: a deeply moving "Ne me quitte pas" in French, with a little accent and without Brel's voice, but Amanda performed it with tangible emotion (Amanda is currently touring with the broken pieces of a recently shattered cute little heart), whispered or even moaned, this cover put everyone's heart in their mouth and was received with thunderous applause, a well deserved ovation.
Amanda was made for the stage, her voice carries her songs along the rhythm of her piano, soft or violent, with these little leg wiggles of hers that are impossible to describe if you haven't seen them at least once before (the most obvious ones are on "Backstabber", get a live DVD from the Dolls if you can't see what I'm talking about).
Amanda might not be the most "top model" looking singer, and her voice probably isn't the most unforgettable one in this century. But in my point of view, Amanda is by far the most brilliant, the most natural, and the most "true" among all currently active artists. Whether it is when she is composing, when she's singing or when she offers herself up on stage, Amanda puts her heart, her guts, her sorrows, her joys, her wounds, her happiness, her life, and her entire life into everything she does. The result is a heartbreaking, intimate and powerful experience. Art, in its purest form, strong like a slap in the face, erotic like a French Kiss, and soft like a hug. Amanda Fucking Palmer is a deep well of emotions, and should you not know about her yet, you'd better fix that mistake immediately!
PS:
A new update for the Nombriloscope
, with 3 celebrity belly-buttons! The two ladies from the Danger Ensemble and Amanda Fucking Palmer herself readily went along with it and agreed to enter the gallery by letting me take a picture of their navel! You can imagine how happy and proud I am that they're now part of it.
The Nombriloscope
is now more V.I.P.-ish than ever so, pretty lady-reader, should you suddenly become aware of your NOT being a part of it yet, don't hesitate and send me a little picture
HERE
!
Quote of the day: « Thank you so much for the food »
Song of the day: Astronaut, Amanda Palmer, « Is it enough to have some love small enough to slip inside a book, small enough to cover with your hand because everyone around you wants to look ? Is it enough to have some love small enough to fit inside the cracks? The pieces don't fit together so good for all the breaking and all the gluing back »
Even if I can't find any counterexample today, life is beautiful!
Libellés : Amanda Palmer, Concert, Dresden Dolls, English, Nombriloscope